Time for another Goodreads giveaway, Crafters! On Friday we shared with you an adorable Owl Knit from Monsters Knits for Little Monsters. We know there are so many other cute animal knits waiting to be made so we're going to give away some copies this week.
Monster Knits for Little Monsters is an adorable collection of animal-themed hat and mitten sets for babies and toddlers from ages six months to three years, that kids will love and adults can't help but fawn over. These cute coverall hats k
eep your child's head, ears, and neck warm and toasty, and have a practical pullover design so that they can't tug it off easily. Also included are knitting patterns for matching mitten "paws," socks, and scarves. Featuring bears, owls, frogs, foxes, sharks, robots, dinosaurs, bunnies, and even Shrek-like ears, there are loads of delightful ways to dress up your child in charming creations that are quick and easy to knit. Each project contains step-by-step instructions, plus information for finishing touches to make your projects stand out. A knitting refresher course is given in the back of the book for complete beginners, covering tools, yarns, and all the techniques and stitches you'll need to create the projects. And a Create Your Own Design section will inspire knitters to let their imagination run wild to create personalized accessories that their little monsters are sure to love and cherish.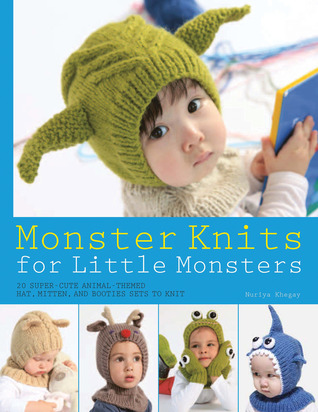 You can enter to win through Wednesday. Of course if you're not the type to take risks you can buy your own copy today!
Amazon
Barnes & Noble
Books-a-Million
Indiebound
Walmart
Check out our August and September titles: